Mermaid and Pirate Party Ideas for Kids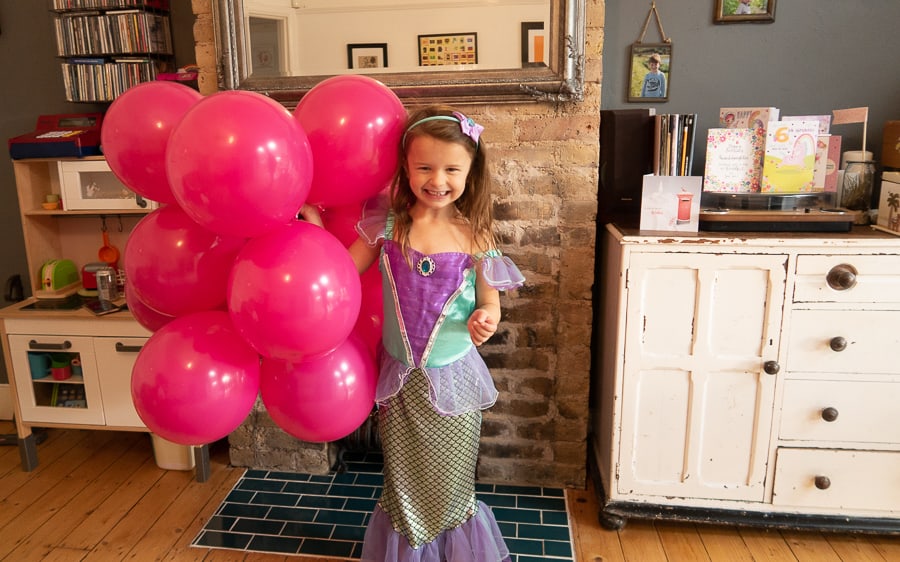 Last weekend, we had Orla's 6th Birthday Party and she chose a Mermaid and Pirate party theme! She's a big fan of Mermaids and unicorns and all things sparkly but equally she loved the idea of having a 'Walk the Plank' in the garden so a Mermaid and Pirate Party was the perfect idea for her 6th birthday. It'd a great birthday party theme which works for boys and girls alike. If you'd like to plan a magical underwater birthday party – here are some ideas for Mermaid and Pirate party games and decor……
Great Ideas for Mermaid and Pirate Birthday Party Decor
Mermaid and Pirate birthday parties make a great theme choice for a sibling party – there's so much choice for quick and easy Mermaid and Pirate decor ideas around. We opted for these cute Jellyfish paper lanterns for our underworld scene – they have great impact in room and a simple mermaid banner.
Zuru Bunch O' Balloons for quick and easy party decor!
Obviously no party is complete without balloons! They are a very cheap way to decorate a kid's party and they also can double up as a game! But sometimes they're a lot of hassle and take time to blow and tie up. When you have hundreds of balloons to get blown up, as well as a party to get organised, then time is absolutely everything.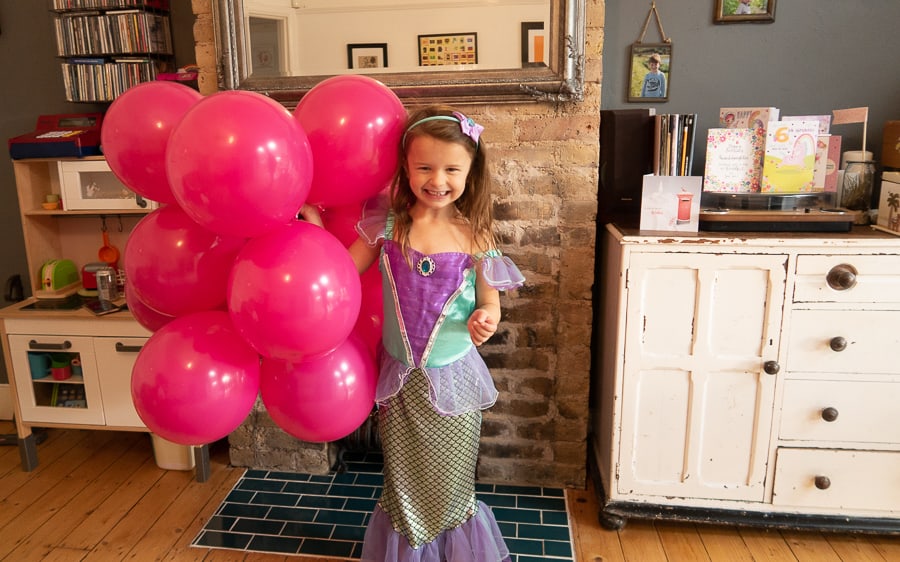 That's why I was so excited to try out the ZURU Bunch O Balloons Party range, which enables you to tie and string 40 balloons in just 40 seconds! Considering blowing up and tying just one balloon generally takes me about a minute, I was excited to see the time it could save! I'm normally frantically blowing up balloons at the last minute!
You need to use the specific Bunch O Balloons range of products together in order to blow up multiple balloons all at once. But Bunch O Balloons makes their products in a wide range of colours, so you'll be able to find the colour scheme that's right for your party. The pump comes with a set of adaptors which can be used with other inflatable items in your home, such as paddling pools and floatation play toys, which is a bonus. It also has a helium adapter, so that you can fill your balloons from a helium tank instead, if you prefer floating bunches!
Not only does it make your party set-up quicker and easier, but the balloons are also very good quality and are large when blown up. I'm writing this a week on – and balloons are still in a perfectly bouncy state – no deflation here! I will definitely be using the Bunch O Balloons Party pump again at future parties! You can buy it from Amazon here. The Bunch O Balloons are also made from recycled materials and are biodegradable so they're kinder to the environment than other balloons.
Mermaid and Pirate Party themed food
I kept it simple with the food but Elodie did her first baking all by herself and made these gorgeous mermaid cupcakes using Meri Meri cupcake toppers and we had fun making these cute Mermaid clams out of macroons, mini eyes and whipped cream. They were lots of fun!
I also love the Mermaid and Pirate party food in this blog post, if you're looking for more ideas.
Mermaid and Pirate Party themed Games
We had lots of fun coming up with ideas for the party games and my older son Finlay was a big help in creating a treasure hunt for the kids in the garden – they found Pirate Treasure and then exchanged for a real chocolate coin! Then they completed an obstacle course ending with a 'Walk the Plank' – the rain held off until the very end and then we had to rush inside for a game of 'Pass the Parcel'. We used one of these National Geographic Treasure Excavation Kit as the Pass the Parcel Prize.
NATIONAL GEOGRAPHIC Mega Gemstone Dig Kit – Excavate 15 Real Gems Including Amethyst, Tiger's Eye & Rose Quartz – Great STEM Science Gift for Mineralogy and Geology Enthusiasts of any Age
Next, we played Pirate Hoopla which was easily made out of these pirate hooks taped to a board! I admit black duct tape may have looked more attractive but we only had pink for some reason! This kept the kids (and the adults) busy for ages – it's harder than it looks!
After that we played a game that we bring out an every party – it's easy to change up the ideas for any theme. You pick 4 items relating to your theme (we picked – mermaid, pirate, treasure chest and shell.) Print out photos of these items and stick them in 4 corners of a large room. Also print out smaller photos of the same items – around 3 of each. You play the music and when the music stops, the kiddos have to run to an item of their choosing. An adult closes their eyes and then they pick one of the smaller images. Everyone standing under the chosen image wins a sweetie (or a sticker). It's lots of fun and adaptable for any party theme.
Lastly, my sister (ever the primary school teacher) led the kids in a Pirate Ship game where they had to dance and then 'climb the riggings' and 'scrub the decks'. You can find the full details of how to play it here.
Mermaid and Pirate themed crafts for birthday parties
As not everyone arrives the same time at a party, we started the Pirate and Mermaid party with some Pirate and Mermaid themed crafts. The kids could choose to have a Pirate or Mermaid tattoo and then make Pirate or Mermaid themed necklace. These pirate skull beads went down a treat. And their were some pretty pastel mermaid beads too. Next, they painted their treasure boxes with Paint Sticks (these are much easier and less messy than paint – their our favourite crafting material) and decorated them with stick on beads. The kiddos had such fun doing this that I was so sad that I forgot to take a photo of all the decorated treasure chests in a row! They looked so pretty. We managed to get a very good deal on the treasure chests in The Works (£1.50 each) but these mini chests from Baker Ross are the same and perfect for making pirate treasure chests.
We kept it super simple for the party bags by decorating these paper bags for the kids to take their treasure chests and necklaces home too and added a pirate catapult from Cotton Twist.
I hope this has given you lots of ideas for your own Mermaid and Pirate Party – I'd love to hear any other ideas you might have for this theme or variations – leave a comment below!
Other Birthday Party Themes for Kids
Detective Spy Birthday Party Ideas
Digger Construction Party Ideas
*This Post contains Affiliate Links which means I may make a small commission if you click on the links. It doesn't cost you any more though and I only recommend products I genuinely love! All thoughts, words and photos are completely my own unless stated*