You're here, October. I was so ready for you to arrive it was ridiculous! Ready for the darker cosy nights and so to celebrate, I decided to do a spot of sewing. This, despite the fact that I can't actually sew, made me feel all homely.
I've been looking for a height chart to measure the kiddos and to keep a record of how much they grow, they love to measure themselves and have mini competitions as to who is the tallest (even though it's blindingly obvious!!) We currently measure them, like most folks, on a scribble mark on the wall on our landing. But I wanted something a little more decorative that maybe would go in the kitchen – but seeing as it was going to go in a main living area – I didn't really want it to be a childish one. I also wanted a thin height chart (I don't ask for much) to fit in a nook in our house and so decided to make my own when I found some hessian lying about left over from making things for a friend's wedding. You can buy similar hessian or burlap strips here.
I embroidered (well, when I saw embroidered, it's more a bit of sewing! It can't be considered embroidery!) the numbers onto the hessian. I would love to have added some little flowers or intricate bees or nature embroidery – but it was all I could do to sew the numbers on – that took me long enough!
I used embroidery thread for the numbers and the same thread to add a hook at the top and bottom so I can hang it to the wall. I'm now just in a quandry as to how we actually write on the height chart. I might use it more as a guide and then still write their names and heights on the wall or….I might find a way to sew on a little initial, maybe once a year on their birthdays? This seems a little time consuming and I suspect I'll forget, but I like the idea that it could become a cute keepsake to remember how small they once were and could be moved from place to place if we find another nook that suits it better!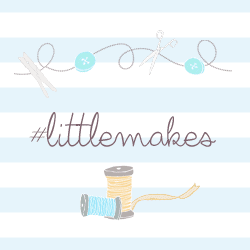 *This post contains affiliate links*