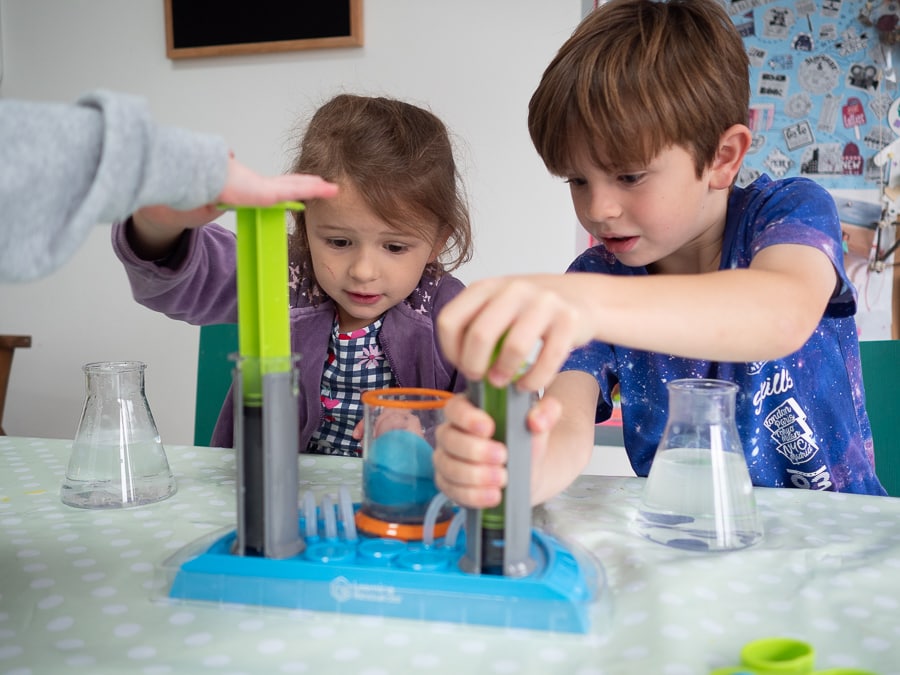 My kids love anything that involves Science and an experiment and generally making a mess! We've had fun making our own experiments over the last couple of years…..end of the kitchen cupboard potions, pumpkin potion experiments – they love nothing better than mixing and concocting! So I said a big 'yes please' when we were asked by Learning Resources to try out there Beaker Creatures Liquid Reactor Super Lab. If you have little ones that love experimenting, keep reading to find out how to win your own Liquid Reactor Super Lab.
Beaker Creatures is a science kit for young children to introduce them to Science experiments in a fun and mess free way. The kit contains two reactors (which are a bit like bath bombs) and a main chamber and tray where the experiments take place. The whole kit took around five minutes to put together.
The main experiment is to dissolve a pod which is pretty similar to a bath bomb inside the main chamber. Inside the bath bomb is a fun little toy which you retrieve when the pod dissolves. The whole things is made a lot more fun by adding water through plungers which transfers down some mini pipes. This bit is a lot of fun for kids as you get to push the plunger and watch the pod react and fizz!
The kids were super excited by trying to identify which creature they had on the identification sheet which comes with the kit. There are over 30 little Beaker Creatures that you can collect but you'd need to buy more reactors pods separately to collect more than two, which you can get here from Amazon.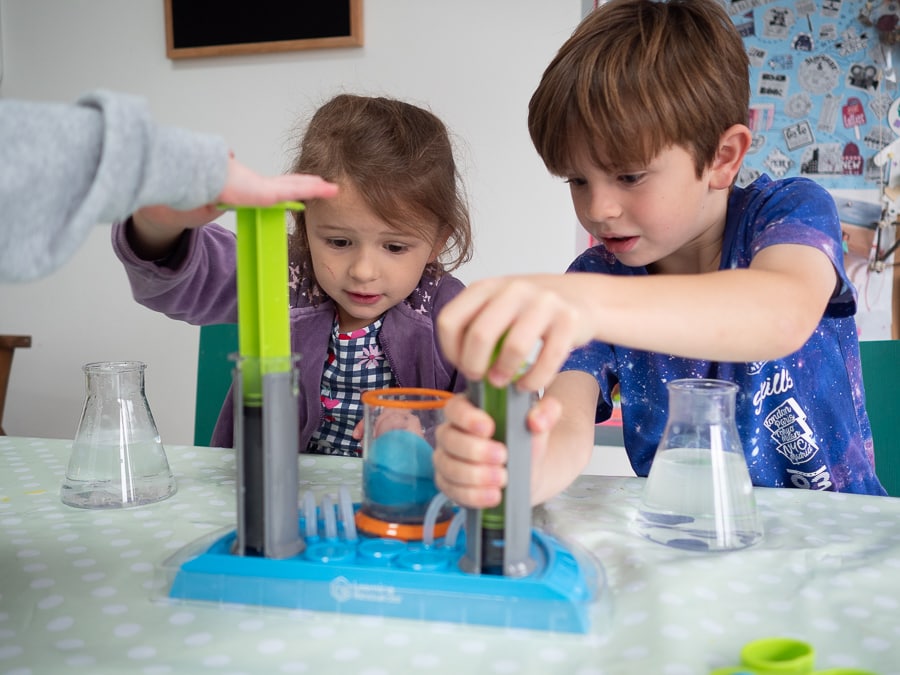 Alongside these experiments, there is also an instruction sheet containing another four experiments you can easily try out using products you can easily find around the home such as things that you will find in your kitchen like food colouring, washing up liquid and glue. One of the other experiments you can try is 'alien slime' which my kids are hoping to make next! This was the best thing about the Beaker Creatures Super Lab in my opinion, after we had finished with the pod reactors – my kids just played with the blue/ green water and mixed it and plunged it and made their own little experiment!
Beaker Creatures is a great way to introduce simple science experiments to the children in a fun and mess free way! I'd recommend for kids from 3-9 years old.
If you'd like more ideas for Science or STEM gift ideas for kids, you can check out my STEM Toys Gift List here….
Giveaway
If you like the sound of the Beaker creatures liquid reactor super lab and would like your chance to win one for yourself then enter below:
Win 1 Learning resources beaker creatures liquid reactor super lab RRP £25

*We were gifted the Beaker Creatures Superlab in exchange for a review but all thoughts words and love of STEM toys are completely my own.*
*This post contains affiliate links which means that I gain a small percentage commission on each sale generated via my site.  It won't cost you any more though!*